Sunday, October 26th, 2008
OK ini memang telat, tapi lebih baik terlambat daripada tidak sama sekali

Pada tanggal 2 September, 25 tahun yang lalu, Richard Stallman memulai gerakan Free Software (software bebas - bukan software gratisan). Dulu hanya mempengaruhi komunitas developer, ternyata, sejalan dengan semakin meratanya penggunaan komputer di segala aspek kehidupan, kini Free Software telah semakin dikenal oleh masyarakat umum.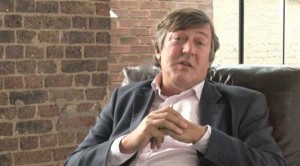 Termasuk oleh Stephen Fry, aktor Inggris yang terkenal dengan perannya di film-film sukses seperti "A fish called Wanda" dan "V for Vendetta". Perannya di "V for Vendetta" cukup terkenal - disitu dia tewas dihukum mati oleh rezim diktator karena nekat menyimpan sebuah karya literatur terlarang di zaman tersebut, yaitu Al-Quran


Cukup unik (and, at the same time; weird, amused, amazed) mendengar bagaimana karakternya di film tersebut, Gordon Dietrich, yang homoseksual, memuja Quran (this is the second time I've encountered such thing) karena "bahasanya yang indah". Dan dia lebih memilih tewas daripada mengorbankan kebebasannya (untuk menghargai semua hal yang dilarang oleh rezim tersebut).
Hadiah dari Stephen Fry adalah sebuah video khusus yang merayakan hari ulang tahun Free Software yang ke 25. Pada video tersebut, Stephen menjelaskan tentang Free Software & GNU dalam bahasa yang sangat mudah dipahami. Cukup mencengangkan melihat orang tua yang lucu ini (Stephen Fry terkenal sebagai komedian di Inggris) ternyata memahami berbagai konsep dan filosofi dibalik gerakan Free Software. This guy is truly awesome.
Dan dia ternyata merasa tergerak untuk turut mempromosikan soal Free Software ini kepada masyarakat luas.
Saya jadinya tergerak juga untuk menyebarkan video yang unik ini kepada masyarakat kita

Silahkan video Ulang Tahun 25 GNU bisa Anda download dari sini (7 MB)
Jika Anda menggunakan video player yang mendukung subtitle, seperti V L C, silahkan download subtitle Bahasa Indonesia disini. (8 kb)
Versi lainnya :
[ Selamat Ulang Tahun 25 GNU Medium Quality ] (21 MB)
[ Selamat Ulang Tahun 25 GNU High Quality ] (33 MB)
[ Selamat Ulang Tahun 25 GNU Best Quality ] (125 MB)
File video ini adalah dalam format Ogg, yaitu format video yang, tentu saja, bebas tersedia untuk siapa saja. Tanpa batasan apapun.
Panduan untuk setup driver/codec untuk format video Ogg ini bisa dibaca disini.
Selamat menikmati, dan, selamat ulang tahun 25 untuk GNU & Free Software !